Mobility Solution App of Nepal: Sarathi At Your Convenience
Talking about today's era, It's totally about the Internet. The Internet gives instant access to information, knowledge, connectivity, learning, sharing, communication and many more. We are using the Internet for most of our day-to-day activities. Addressing such movement, there has been the development of many mobility applications. Here, mobility simply means to be able to move easily through any means of transportation.
In Nepal, Sarathi is one of the popular mobility application launched in 2016 but operated since 2017. It works as a mediator connecting customers and cab drivers. The concept of Sarathi is simply the convenience, security, and safety of cab owners, cab drivers, and customers. The official website of Sarathi claims that "Sarathi is the mobility solutions offering ride booking, leasing, car rental, and car-sharing."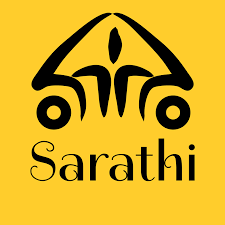 Highlights point of Sarathi:
Sarathi cab runs on Digital meter as stated by the government of Nepal

Ride rates as per stated by the government of Nepal

24*7 Cab Service

ICT Award for Best Startup of the year 2018

Payment through cash and online wallet i.e e-Sewa

Sarathi monitors its car with GPS
Process of using Sarathi as a Customer:
You can call +977-1-4217171 to book a cab directly.

Or,

Download the Sarathi app on your phone.

Log in, if you already have Sarathi account else Register your Sarathi account.

Select your pick up point and destination location.

Then, select the waiting option which can be 15 min, 30 min or 5-10 min.

The cab driver will call you after a few minutes in order to confirm the ride.

There is also the option of canceling the ride.

Note: At the time of writing this post, the app of Sarathi is still in the phase of development. It may be unstable.
The concept of Sarathi is not a new or innovative one but in the context of Nepal, it definitely looks very much promising and if it succeeds then that will definitely transform the way of cab riding in Nepal.
| | |
| --- | --- |
| Before/Current Situation | After Sarathi |
| Monopoly Taxi Business, | Less Monopoly, |
| Unfair Rate, | Rate as per digital meter, |
| Might have to wait long to get a ride, | Easy and faster availability, |
| Safety issue, | Less safety issue due to GPS tracking, |
| No security to the cab drivers/owners, | Insured and secured for cab drivers/owners, |
| No assurance of earning, etc. | Assured earning of cab drivers/owners, etc. |
Sarathi is undoubtedly an emerging concept but it does lack in some of the points such as:
It is based on Kathmandu city only which limit the area and scope of the Sarathi

Though the app of Sarathi is still in the development phase, many users are facing a lot of trouble with the app. If not, resolved on time then the Sarati might have to lose its customers.

On the webpage of Sarathi, it has mentioned leasing, car rental, and car-sharing but checking the current app of Sarathi I could only find booking cab.

In the login process in the app, there is no system of a password. Each time the user was provided with a new code in order to log into the account. This is very time consuming and inconvenient.
In the nutshell, the concept of Sarathi could be the game-changing concept of the cab market in Nepal. If this concept of Sarathi succeeds then it will definitely benefit customers, cab drivers and also cab owners. It will add value to the ride and cost. Sarathi should also recognized the emerging competition in the mobility market and fix all the errors as soon as possible and should provide some added benefit to their customer.
Related Post:
Tootle: Ride-hailing transportation app.
Pathao:A e-commerce Delivery and Ride-Hailing Service Provider
Also Read:
Trending E-commerce market in Nepal: Daraz, a online marketplace and retailer
E-payment: Khalti Digital Wallet and Payment Gateway in Nepal
E-Transportation Service; Digital Management for Transportation Business with Vehicle Recovery Service