How to Use Bing Webmaster Tools for SEO?
We all know about Google webmaster tools but how many of us know about Bing webmaster tools?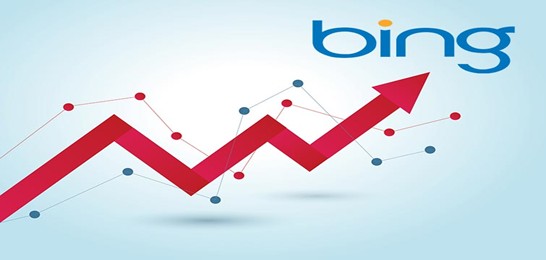 Bing Webmaster Tools is a non-charge service by Microsoft which allows webmasters to submit their website and get a SEO report and related information of their site. There are many advantages of having webmaster account on Bing. With Bing webmaster tools you can get more traffic on your site.
Just like in Google webmaster tools you have to create your account in Bing webmaster tools. To do so, you can go through https://www.bing.com/toolbox/webmaster and sign up your account with Microsoft account or you can sign up from Google and Facebook account too.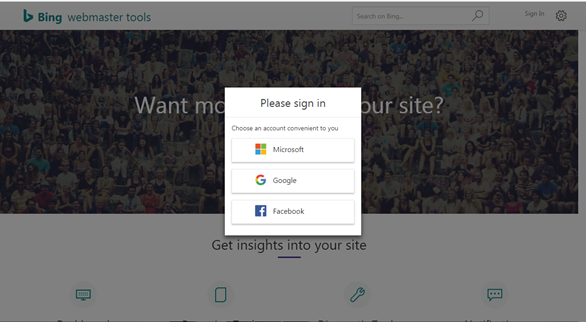 Now enter the URL of your website and click on the ADD button. This takes you to the page where you have to add a site map of your website and select the day parting information or you can select Default.
Next step you have to do is verify ownership of your site to do so Bing webmaster tools provides you three options.
1. Place an XML file on your web server
With this option you can download the Bing XML file and upload it to the domain's root folder. Once it's there you click the Verify button at the bottom of the page. You'll need to do this via FTP.
2. Copy and paste a <meta> tag in your default webpage
With this second option, you can copy the line of code provided and place it in the home page of your site. Once it's there click the Verify button.
3. Add CNAME record to DNS
The third listed option allows you to log into your hosting provider and add a CNAME record with the name provided to the value verify.bing.com. This option is more technical than the previous two. If you can't log into your hosting provider, this will not be helpful. Once you have been done click on the verify bottom.
After verifying the ownership of your site using one of these options, now you can see the home page of your account as shown below.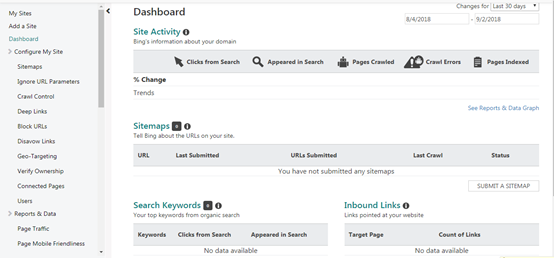 Now, let's take a look at some of the really cool features of Bing webmaster tools.
The dashboard allows you to see important data about clicks, impressions, pages crawled, crawl errors, and pages indexed of your website or blog. Also, it will give you some basic information about important areas of Bing Webmaster Tools such as site activity, XML sitemaps, search keywords, inbound links, and diagnostic tools.
With this section of Bing Webmaster Tools you can get more details about XML sitemaps, submitted URLs, crawling, and blocked URLs.
This is another interesting feature of Bing webmaster tools, which allows you to customize their crawling pattern. With this feature you can set the busiest time of your site and Bing bots will crawl your site more only when your site is less busy and also they will not harm your business while they do that.
If you want to remove a page or any other directory from Bing search, here's where you do the same. You can stop indexing of any selected page or directory on your site by entering the URL depending on whether you're blocking it from just the cache or completely. This manual URL removal applies for 90 days to completion which is when you can decide to keep them out of the index or re-index it again.
With this features of Bing webmaster tools you can maintain a clean link profile of your site. To do so, you have to enter the URL of the domain, directory, or page that you want to disavow and click Disavow button.
This will inform to Bing that you'd like to distance yourself from inbound links.
With this section you can set the country for your content on your entire site, domain, subdomain, directory, and individual page. Bing will take this information as a suggestion for how your specified page should display in the search results page.
If your site has social media account or pages Bing allows you to connect them up to your Bing account. To do so simply enter the URLs for the specified social media accounts and hit the verify button. Once you have done then you will be able to see the impressions and click data from the dashboard of the connected pages.
With this section you can view site activity, page traffic, search keywords, SEO reports and crawl information. Also, Bing provides wide reports and data to examine the effectiveness of your site on Bing. These data and reports are helpful to identify opportunities to increase traffic on your website
Page Traffic displays you the traffic report for the top performing pages on your site. You can see clicks from search data, impressions, click-through rate, your position on search engine and more. The View hyperlink at the end opens a pop-up window that shows you detail information on which keywords drove organic search traffic to that page.
With this feature of Bing webmaster tools you can see which keywords from search are getting impressions and clicks to your website. Here you're going to see some analytics data that shows how your site is performing in terms of click-through rates and the average ranking of your site when it's clicked.
With this feature you are going to get all of the SEO recommendations which will help your site stand by SEO best practices. Simply click on the error to get a full statement of the problem and recommended course of action, along with a list of pages that aren't compliant.
This section provides you a deeper look into the crawl errors existing on your site. To view the error pages that have been reported for, click on the number under the error alert and they will exposed a list of URLs returning that particular status code or error. Also, With These alerts you can make sure why Bing is having problems to access your content.
This section helps you to fix website issues and maximize search visibility.
With this feature Bing allows you to do keyword research to help build a successful SEO campaign. Click on the link https://www.bing.com/webmaster/help/keyword-research-tool-628070b5 and you can see the query volumes for keywords which you are interested in. Also related keywords will help you to develop areas that you may want to target.
If you'd like to view your site through the eyes of Bing then just enter URL of your site and select Fetch to see how Bingbot sees your page source.
The SEO Analyzer takes a deep look at individual page to see what work would need to be done for the page to abide by SEO best practices, and then generates a report with recommendations.
If you're ready to move your site to a new domain, this feature allows you to notify Bing that your site has moved to a new domain or you're moving section of your site elsewhere. While they'll normally pick up the redirects, and change it in the index, but Site Move feature can help to speed up the process.
Bing webmaster tools give you information about how your site performs in Bing. And the reason it's worth using is, it guides you and tell you what to do if you want to improve your traffic in Bing too.
Do you use Bing webmaster tools? Which section do you find most helpful? Please share in the comment bellow.