How to use Google webmaster tools for SEO?
Google webmaster tools is a free web service by Google for webmasters. It is also refer to as the Google search console. With Google webmaster tools you can make sure that how Google interacts with your website. Also, webmaster regularly checks your site and display the errors that Google founds when reading your site even sends an email alert if it finds any important issues.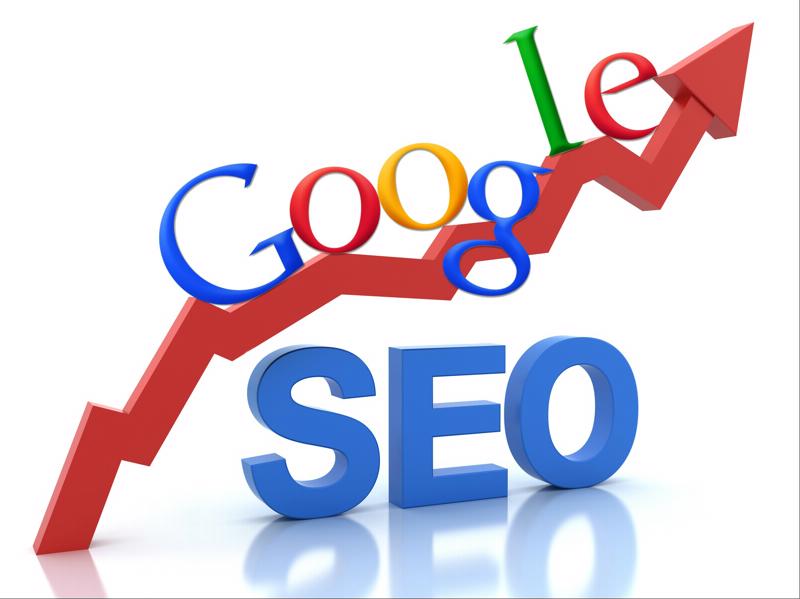 It is an absolute requirement for anyone that currently has a website. Because it lets you know where you stand in the Google search result pages, how many clicks you get, what Google likes and dislikes about your site. So, you can use this information to discover the most successful pages and help it to rank higher in search results.
Isn't it interesting?
Let's get started from joining in Google webmaster tools.
For that you need to go through www.google.com/webmasters click on search console and log in with your Google account. Now you can see a dialog box, enter your website's URL click on Add a property.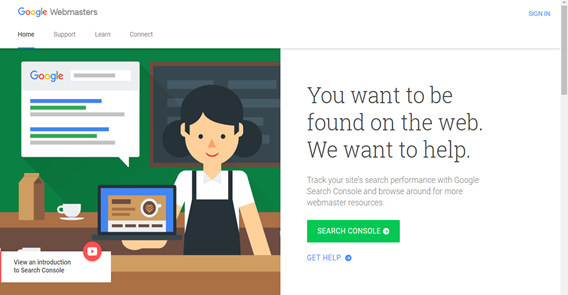 Now you have to verify your site so that Google knows you own the site. There is few a ways to verify the ownership.
The first option is you can upload an HTML file to your web server or you can use alternative method if you already have Google Analytics, You can access your Google Webmaster Tools data directly from Google Analytics, so with just some more effort you can verify your site.
Once your site verified your site, you can submit your site map. This is a simple XML file which maps out the pages that you want Google to find on your website. To create a site map you can go through https://www.xml-sitemaps.com/ download and copy your XML sitemap file.
On the left side of your Google webmaster account you can see crawl option under that you have site maps, simply press on and it will give you an option as to Add Sitemap click on that and paste your copied XML file.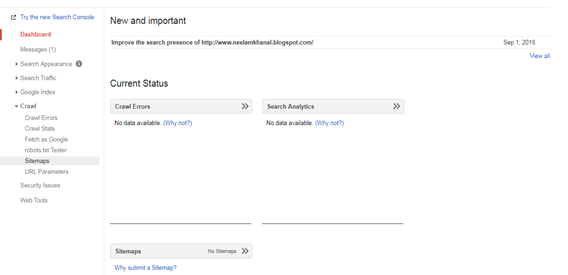 When you submit your Sitemap, it consists of all the links to your website and it's in XML format and Google will come to know what all links are there that you want to get indexed.. Also, it maps out the pages, posts, categories, tags and even images that you want Google to find.
Now, let's move towards some of the important features of Google Webmaster Tools
Dashboard
Dashboard you can make sure that what is going on with your site, this is where Google sends you messages if there is any important issue that needs your attention. From here you can access all the specific areas such as your Crawl Errors, Search Analytics, and Sitemaps.
Crawl Errors is the section where Google bot encountered your site and let you know if there is any problem or error during the crawl.
Search Analytic provides the information about clicks, impressions, click-through rate and your position on search result pages.
As I mention before, Sitemap helps to inform Google about any changes on your website
Search Appearance
With this section you can see how your site appears in search results page. It also let you know about how Google search results work. Furthermore it gives you more information about your site and helps you to be a better search engine optimizer as well as better webmaster.
Structured Data
This section gives you detail information about the structure of your website. With this Google comes to know the content on your site. It does help you to find any errors that stand out on your site and rank your site better. If you want to learn more about structure data go through the link https://developers.google.com/search/docs/guides/intro-structured-data
Rich cards are a form of structured data which provides you new opportunity to stand out in Search results and attract more targeted users to your page.
HTML Improvement allows you to quickly see if your website's on pages SEO elements are on place. In this page you can see two of the most important tags on your website the title tag and meta description. These tags used in search results so, pay attention to set these tags very well.
Search Traffic
This section let you know about how your site is performing, and where your site stands in search results page. Search analytic as I mentioned earlier it tells you about your ranking, what position you are ranking Google, what types of impression your content is getting, what click-through rate you are getting. With Links to your site Google Webmaster Tools shows where your backlinks (internal and external) come from, as well as the pages they are linking to.
Neil Patel "It's a powerful tool to know where your content is being leveraged around the web, and what performs best in Google's eyes."
Internal links are links, linking with other part and other pages of your site. If you place a link anywhere then you are basically saying your visitor to click that link.
Google Index
Index status shows data about how many URLs of your site Google has tried to index. With this tool you can make sure that how your site is doing in the index.
Remove URLs gives authority to temporarily remove URLs from Google search results. Also, you can block those pages from coming up in the search results by disallowing the page in your robots.txt.
Crawl
Crawl Errors show you if there is any broken pages located on your website. This section lists two kinds of errors, Site error and URLs error.
The Site error displays all the errors of your website, while the URL errors display the errors when your desktop and mobile pages are crawled.
The Crawl Stats feature of Google webmaster tools, shows you how often Google crawls your site, when they do it. Also, it shows you the pages crawled per day, the number of kilobytes downloaded per day and the time spent downloading a page.
These are the some of the essential features Google of webmaster tools.
There are many tips and tricks to improve SEO on your site, webmaster tools is one of the non-charge web service provide by Google. It provides every useful detail about your site. Once you have joined with Google webmaster tools you can fully enjoy its advantages.