VR Developement and How to become a VR Developer?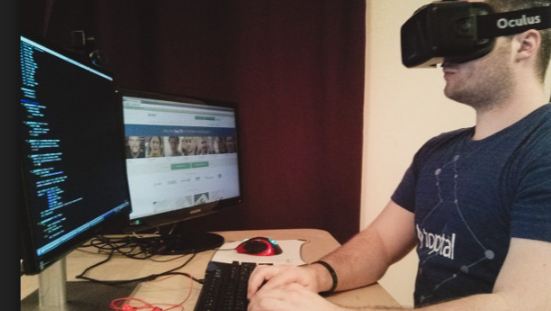 Virtual Reality is the next big buzzword in the tech world. With the enormous rise of 3D and VR games and videos the possibility is vast. So, to develop such games and content there is a need for the technically skilled team and they are known as the Virtual Reality Developer
Virtual Reality has just been around for about 20 years now. But, the process is really challenging and difficult and that's what VR developer does, Simulate the virtual world that seems unrecognizably real when a normal person experiences via a VR headset. Nevertheless, being a part of the next big leap sounds pretty exciting.
So, what are the requirements ??
First of all the foundation is to be a developer which consist of a wide array of skills required for taking the next step into VR development. Experience of working with the team and a history in game development carries a bonus point. But, developer from any other field is as much valuable as they have the similar mindset that all the developer possess that is all about innovation and providing potential solutions.
Every field either be it engineering, interior design, architecture, mathematics, medicine and so on, every field and sector can benefit from VR technology.So, the scope of VR seems to be vast and with it comes the opportunity and need of VR developers.But, the need for coming up with new ideas and the persistence to work upon them is a most needed quality that a VR developer or any other developer must possess.
Currently the biggest name in VR is the Oculus Rift presently owned by Facebook.Other names on the market are Sony PlayStation VR, Microsoft HoloLens , Samsung Gear VR and so on, to name a few.
The foundation for the VR developments include:
Learning to use 3D engine like Unity
Importing 3D assets to populate the environment
Programming in the game engine
Learning programming language like C# and C++
These are the basic requirement to step into the field of VR development. But others things should also be taken into considerations like
Choosing audience and Platform
Choosing and working with the right hardware
Build a simple prototype system
Explore other successful VR games
Get in touch with the current trend
Feedback about your work
While the world of VR technology seems challenging, but with the right mindset and approaching single goal at a time, experimenting with new projects using the available tutorials and a little patience and persistence will undoubtedly give the result.