Data Scientist, Data Science overview
What is a Data Scientist?
Data scientist today are who have a blend of many skills. Venn diagram below shows that the definition of Data Scientist.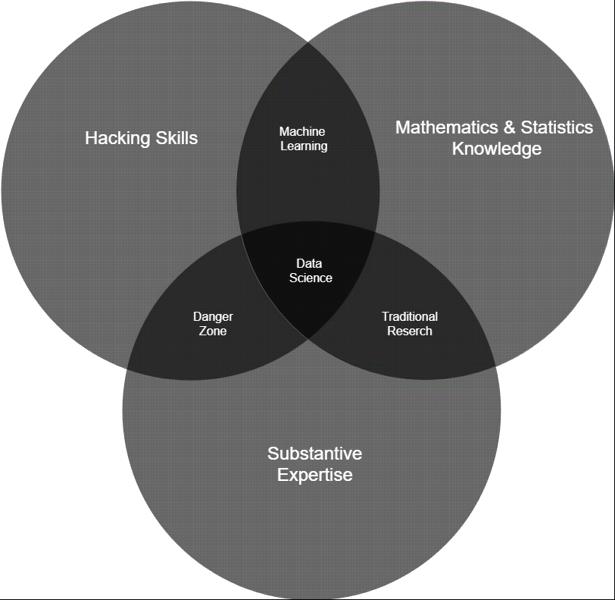 A Data Scientist is someone who knows Statistics and mathematics, which allow them to identify interesting insights in a sea of data. They also have knowledge of programming skills to implement Statistical models and get data from a variety of different sources. Furthermore, a Data Scientist who knows how to ask the right questions into a sound analysis. After completing the analysis, they are able to report their findings to the public in easily understandable formats.
In other words, Data Scientists are able to perform complex analysis on large data sets. After completion of the analysis, they are able to write and make informative Charts(graphs) to communicate their findings to others.
What Does a Data Scientist Do?
Now I am going to explain, Some major task that data scientist may do in their daily work. wrangling data, That is, collect data from the different sources (real world), prepare it, and create a data set that can be analyzed. After completion of analyzing the trend in the existing data, they can make a data-driven prediction.
with the models or predictions, Data Scientist not only builds data-driven products but they are able to communicate with the general public and other data scientists through File visualizations, reports or blog posts.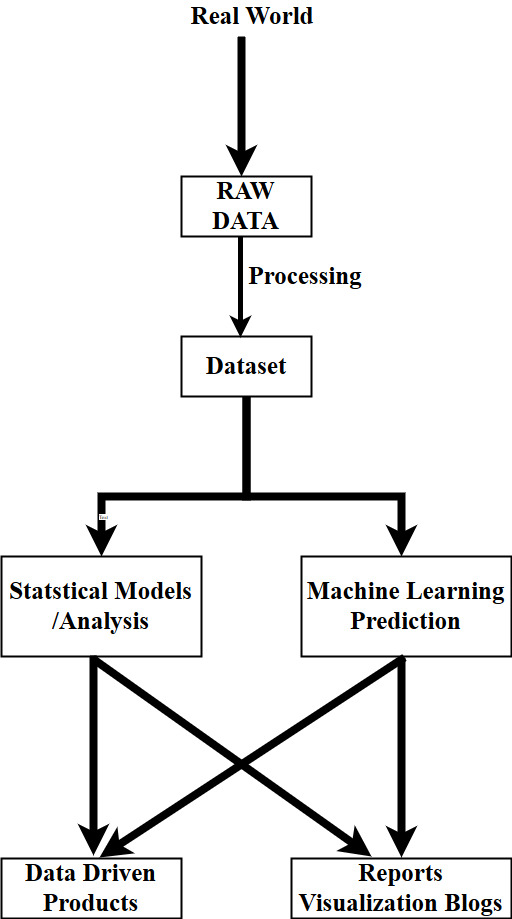 How real-world problem solved with Data Science?
Now that you have a better idea of what data science is, and what data scientist do, let's talk about how data science can be applied across a wide spectrum of industries. Data science can also solve the problem in many different fields. Here are some examples:
Netflix: Netflix uses collaborative filtering algorithms to recommend movies to users based on things they've previously watched.
Social Media (Websites): Elements of many popular social media websites are powered by data science. Things like recommending new connections on linked in, constructing your Facebook news feed or suggesting new people to follow on Twitter.
Bioinformatics: Data science concept is integral in processing and modeling data in the field of bioinformatics where scientists are working on projects like annotating genomes and analyzing data sequences.
Astrophysicists: Astrophysicists use data science concept when building a 100 Terabyte database of astronomical data collected by the Sloan digital sky server.
Public Health: Analyzing electronic medical record allowed the city of Camden, New Jersey to save enormous amounts of money by targeting their efforts towards specific buildings accounting for a majority of emergency admission.
Sports: sports views cameras, on the cricket match, the collect huge amount of data on players batting, bowling, Fielding's, other movements and playing styles. Hence teams are able to better analyze game trends and improve coaching decisions.
Finally, you've probably noticed now that data science is making an impact in areas far and wide. Data isn't simply a trendy new way to think about tech problems. It's a tool that can be used to solve problems in a variety of fields.