Asp.net core 3.0: Introduction and brief information about its new features
ASP.NET Core, developed by Microsoft and the community is a free and open-source web framework and higher performance than ASP.NET. It runs on both the full .NET Framework, on Windows, and the cross-platform .NET Core. ASP.NET Core is the versatile framework and can be used to build all kinds of software including Web applications, Mobile apps, Desktop applications, APIs, Cloud services, Games, Microservices, and IoT applications.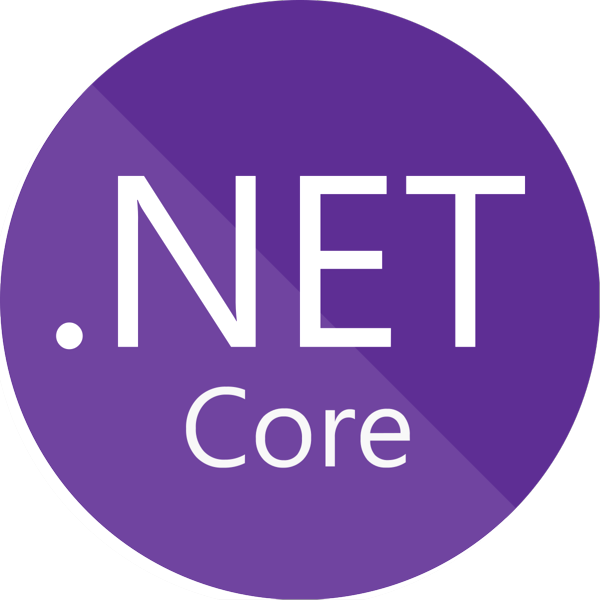 .Net Core 3.0
ASP .NET Core 3.0 is still in preview 7. This version is scheduled to release on September 23, 2019.

It adds support for C# 8.0 and Windows Desktop.
The framework is a complete rewrite that combines the previously separate ASP.NET MVC and ASP.NET Web API into a single programming model. The three main themes of .Net Core 3.0 are desktop workloads and UI interop, artificial intelligence and machine learning and Web app development productivity. The new support for desktop development with Windows Presentation Foundation (WPF) and Windows Forms (WinForms) has been a much-discussed feature of the upcoming .NET Core 3 offering.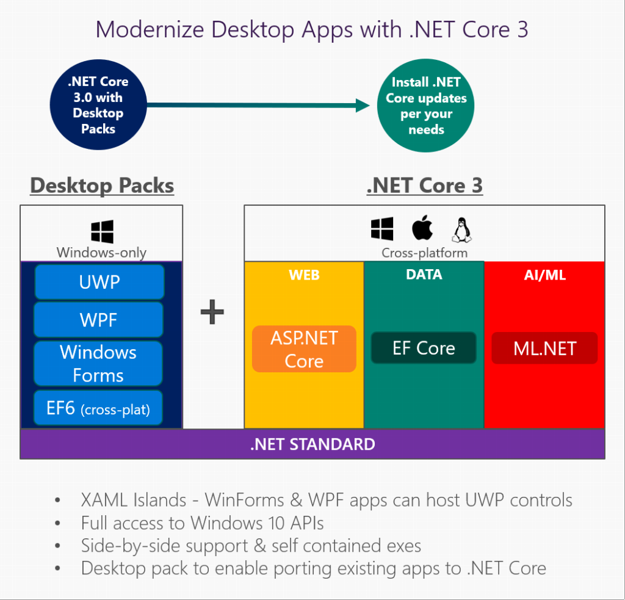 .NET Core 3.0 SDK Size
The .NET Core SDK is smaller with .NET Core 3.0. The main reason is that SDK is built in a different way i.e, by moving to purpose-built "packs" of various kinds (reference assemblies, frameworks, templates). In previous versions (including .NET Core 2.2), SDK was build from NuGet packages, which included many artifacts that were not required and wasted a lot of space.
(size change in brackets)

| | | |
| --- | --- | --- |
| Operating System | Installer Size (change) | On-disk Size (change) |
| Windows | 164MB (-440KB; 0%) | 441MB (-968MB; 68.7%) |
| Linus | 115MB (-55MB; -32%) | 332MB (-1068MB; -76.2%) |
| macOS | 118MB (-51MB; -30%) | 337MB (-1063MB; -75.9%) |
List of added features of .Net Core 3.0
MSIX Deployment for Windows Desktop
MSIX is a new Windows app package format.
IEEE Floating-point improvements
.NET Platform Dependent Intrinsics
Fast built-in JSON support
Build copies dependencies
Assembly Unloadability
Windows Native Interop
Framework-dependent executables support
Nullable reference types
Parsing and formatting fixes
Productivity improvements (switch expressions, recursive patterns, etc.)
Improved Cryptography
Cloud-optimized runtime (optimized for the internet)
Async streams (return more than one value from an async method)
Platform Support:
.NET Core 3 support on an extensive range of OS as given follows:
Windows Client: 7, 8.1, 10 (1607+)
Windows Server: 2012 R2 SP1+
macOS: 10.12+
RHEL: 6+
SLES: 12+
Ubuntu: 16.04+
Fedora: 26+
openSUSE: 42.3+
Debian: 9+
Alpine: 3.8+
Reference:
What's new in .NET Core 3.0 (Preview 7)
.NET Core 3 and Support for Windows Desktop Applications